Original article published in FullCircle #56
Some people don't like the way Ubuntu's user interface has changed in recent versions, and a person from Rome, known as lucazade in the Ubuntu Forums, has done something about it. The Italian has produced a distro called FreezyLinux. It's based on Ubuntu 11.10 and Gnome 3.2.
As I am writing this, it's still classified as a beta. It's too big for a CD, but might fit on a 1 GB flash drive.
All those things may change by the time you read this. The home page is: http://freezylinux.altervista.org/.



What has lucazade produced?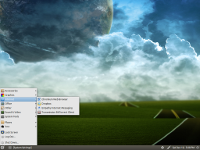 There's a single panel on the bottom of the screen, with hierarchical menus, just like Ubuntu had before Unity came into the picture. Windows have minimize, maximize and close buttons on the top-right.
The distro includes Chromium as its web browser, Rhythmbox for playing music, Synaptic for installing programs, Dropbox for cloud
storage and GIMP for editing images. Cheese webcam booth is included.
Upon loading, Freezy takes 370 MB less memory than Ubuntu 11.10 on my laptop. I have only run it from a persistent flash drive, but
it seems to be pretty snappy.
The downsides? My laptop runs hotter than normal under Freezy. This got a little better when I installed Fancontrol from the Ubuntu repositories, but it was still hot. The distro includes no games. I'm ever so slightly nervous about running a distro which was produced by one person.
Even though Freezy _looks_ like older versions of Ubuntu, it's based on the latest Gnome. That means it won't run those old applets, among other things. Still, if you want to go on a trip down memory lane, it's an option you can consider.